A former Soldier during WWII. He was trapped in ice for over 70 years until he is then discovered by Tony Stark who asks him to join The Avengers.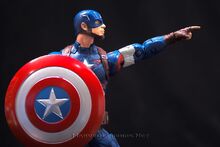 Joins Team: The Avengers Episode 1 - "Avengers Assemble Part 1"
After being frozen after the war he is then picked up by Tony Stark. He is angry at first but then then agrees to help him.